As Recession Looms, a Flurry of Price-Reduction Requests Will Follow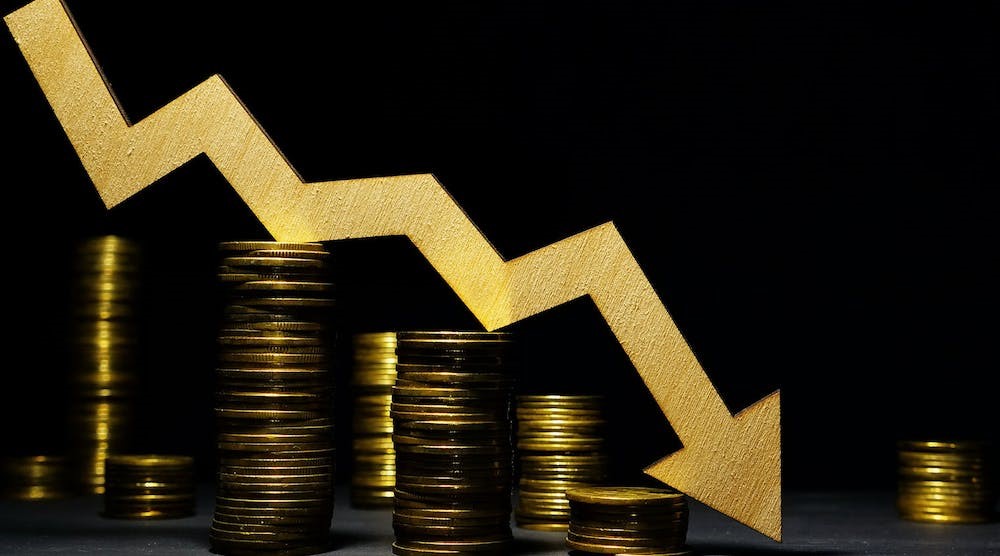 As Recession Looms, a Flurry of Price-Reduction Requests Will Follow
By Stephan Liozu
We are heading into a global recession. It is not a matter of if but when and how abrupt it might be. Some economists predict that it is inevitable. While the economy is still healthy, the combination of higher interest rates, labor shortages and early signs of gross domestic output slowdown confirm this prediction.
So we can expect some turbulence ahead. This means we must brace for some downward trends across the board. It also means that some of the bubbles created since COVID might burst quickly. We can already witness this phenomenon with some of the commodity prices for oil and wood, for example. I anticipate that with both a slowdown and the improvement in supply chains, we might see abrupt downwards price pressures in the next six to nine months. Now, I am not a fortune teller or an economist. In general, though, what comes up must come down. And sometimes it does not come down slowly: It crashes.
It is also true that corporate profits have never been so high. Companies have taken advantage of the scarcity of supplies to adjust prices, restructure their product portfolio, and make some of the structural changes they never dared make in the past. Pricing was also a fairly taboo subject in the past. It has been front and center for the past 12 months.
But with the good news comes bad news. Commodity, raw materials, and labor costs never stay too high for too long. They eventually crash. And that means that customers, buyers and end-users are waiting for price relief. They will demand price concessions based on very public cost reductions.
Are you equipped to handle the potential collapse of your costs and your prices? Are you ready for the potential tsunami of pricing decrease requests? Chances are you are not! I propose eight actions to take to prepare for a downward price spiral.
1. Deeply understand your supply chain and go deeply in your raw materials mix: You need to assemble a tiger team with procurement, R&D, supply chain and finance to take a serious inventory of your current stock levels, expected raw materials in transit and committed purchases so that you can establish a situation of the quantities and value of all current stock. This is an important component to calculate an eventual lower cost pass-through lag.
2. Analyze your costs in detail: Make sure you estimate your cost situation based on point number one. Often customers do not understand the questions of lag and mix. For example, oil goes down and they call you for a price decrease. You have to be expert in understanding cost throughout the supply chain and your cost mix so that you can have data-driven answers.
3. Leverage data to connect cost, supply chain and pricing: Based on points one and two, you can estimate your true cost situation and propose data-supported responses to pressing customers.
4. Communicate transparently with the market: It is essential to educate the market on supply chain cost dynamic, volatility in costs and the concepts of lag and mix. Communicating transparently with the market on a regular basis is a way to avoid surprises and to anticipate reactions.
5. Get the teams ready and mobilize: When raw materials move up or down, I recommend setting up a war room for 90 days. Mobilize experts from finance, supply chain, pricing and sales to interact weekly to make sure people are aligned and ready to act.
6. Beef up your value-based-pricing muscle: Apply a value-based approach when deciding whether prices must come down and by how much. You can use value maps and customer value models to estimate whether discounts are necessary and their levels. Remember that across-the-board price decreases are not the best way to go.
7. Train your salespeople for the tsunami of price-decrease requests: Train them to handle pricing objections, price concession requests, and other pricing pressures. Make sure they understand the rules and guidelines so that they can respond fast and professionally. After months of price increases, customers might be more aggressive on the way down.
8. Adopt a fair and speedy response philosophy: Do not upset customers by not responding to their price concession requests. They have a long-term memory. The way you treat customers at this stage might play in your favor when costs and prices go up in the future.
This is a reality. The U.S. and global economies are going to slow down. And it is not the end of the waves of disruption we have seen over the past five years. Who knows what is coming next? With that in mind, industrial companies must develop costing and pricing skills to manage constant business volatility. They must do so not just when everything increases. Managing on the way down is equally important. Do not improvise. Mobilize your pricing experts.
 
Source:
https://www.industryweek.com/supply-chain/customer-relationships/article/21251777/as-recession-looms-a-flurry-of-pricereduction-requests-will-follow