International Competition of Industrial Engineering BINUS 2022 (ICONE-B 2022)
International Competition of Industrial Engineering BINUS
2022 (ICONE-B 2022)
International Competition of Industrial Engineering BINUS 2022 (ICONE-B 2022) merupakan sebuah kompetisi yang diselenggarakan oleh Industrial Engineering Department BINUS University. Kompetisi ini mengusung tema "Safety and Health Management" yang bertujuan untuk meningkatkan dan memberikan pengetahuan dan fundamental lebih pada para mahasiswa maupun non-mahasiswa terkait pentingnya keselamatan dan kesehatan kerja.
Tidak hanya kompetisi ICONE-B 2022 juga mengadakan podcast yang mengundang sejumlah narasumber. Acara podcast dilaksanakan sebanyak 3 kali dengan mengusung tema:
Podcast#1: Safety and Health Management in Manufacturing Process
Podcast#2: Safety and Health Management in Electrical Utilities
Podcast#3: Safety and Health Management in Industrial Gas Processing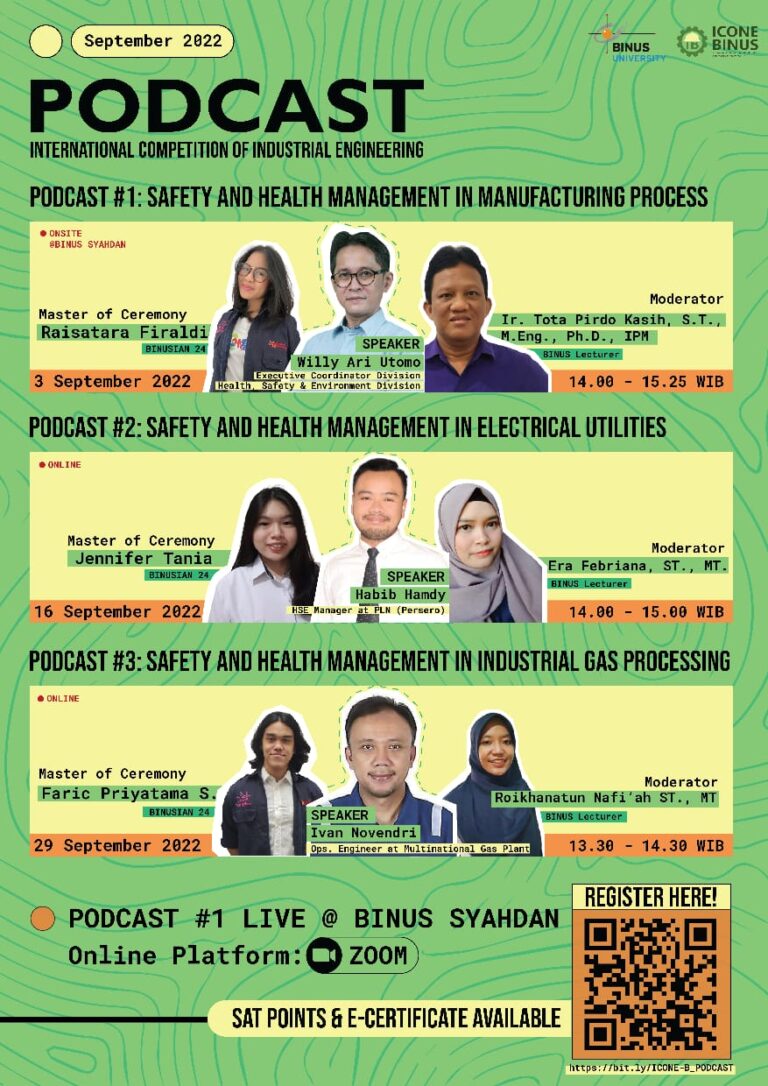 Rangkaian kegiatan ICONE-B 2022 dapat disaksikan kembali melalui youtube Industrial Engineering BINUS University.
Link: https://youtube.com/playlist?list=PLR4hJKbluT1JDBP9XCGZkmhg2YE8_0ORt