PT Caterpillar Indonesia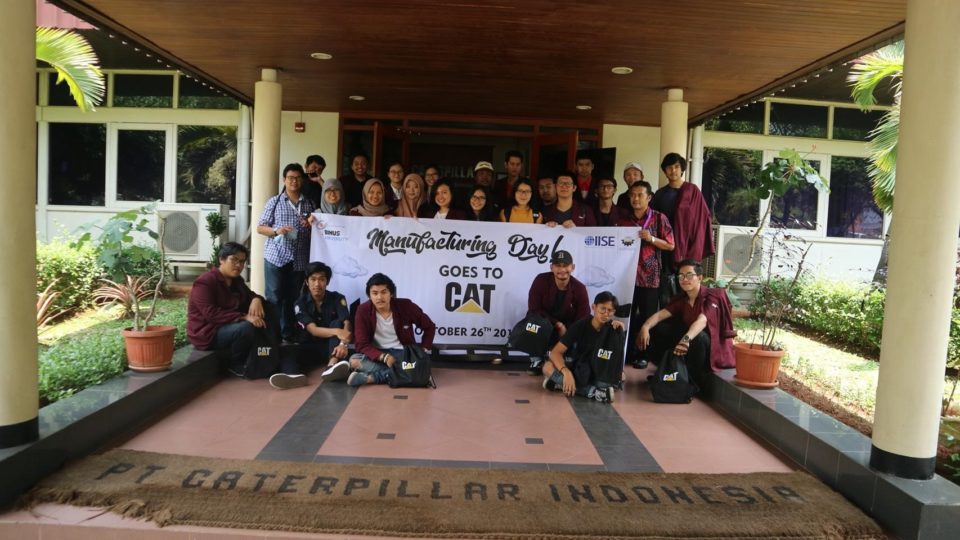 On October 26th 2017, IISE BINUS Student Chapter #716 held a company visit to PT Caterpillar Indonesia for the manufacture students of Industrial Engineering. Invitation for visiting the company is one of the events in Manufacturing Month conducted by PT Caterpillar Indonesia. PT Caterpillar Indonesia is an excavator factory that has stood for around 30 years. This company is closely related to students from manufacturing stream of Industrial Engineering as their production processes include the work practice of manufacturing industry.  Through this visit, students gained some benefits such as observing directly and learning the manufacturing process, introducing the company to the students and vice versa, and also creating a path for job opportunity.
PT Caterpillar Indonesia meets the criteria of a good company as it obeys the rules for a company, concerns for the environment and neighborhood, and emphasizes not only its final product's quality but also the making process of that final product.
PT Caterpillar Indonesia has been serving its neighborhood, as required by the Government, up to five kilometers radius. It has been facilitating lecturer for the nearest SMK and this is resulting on a mutualism relationship between the school and the company as the fresh-graduates from the school apply for work and internship in the company. Furthermore, it has annual social service for the nearby people who are lacking on either financial or education.
This company concerns for environment and thus, they have made their own water retreatment that produces clean water to be disposed. It is stated that their water disposal is drinkable and they consistently make sure their disposal water quality by sending sample to the laboratory.
PT Caterpillar's visions and missions are integrity, teamwork, accountability, proactive, excellence and continuous development. Therefore, they always keep the quality of their products – materials, services, and endurance. In addition, emphasis on the importance of work safety, clean environment, and kinship amongst employees lets them feel comfortable in their work environment.
Binusian manufacturer from Industrial Engineering Faculty was able to witness the whole production processes in the company which includes logistic, painting, assembly, quality check and distribution. Through this visit, Binusian also create the path for job opportunity. This is proved by the invitation for Binusian to work or intern in PT Caterpillar Indonesia.