Industrial Visit To Singapore 2018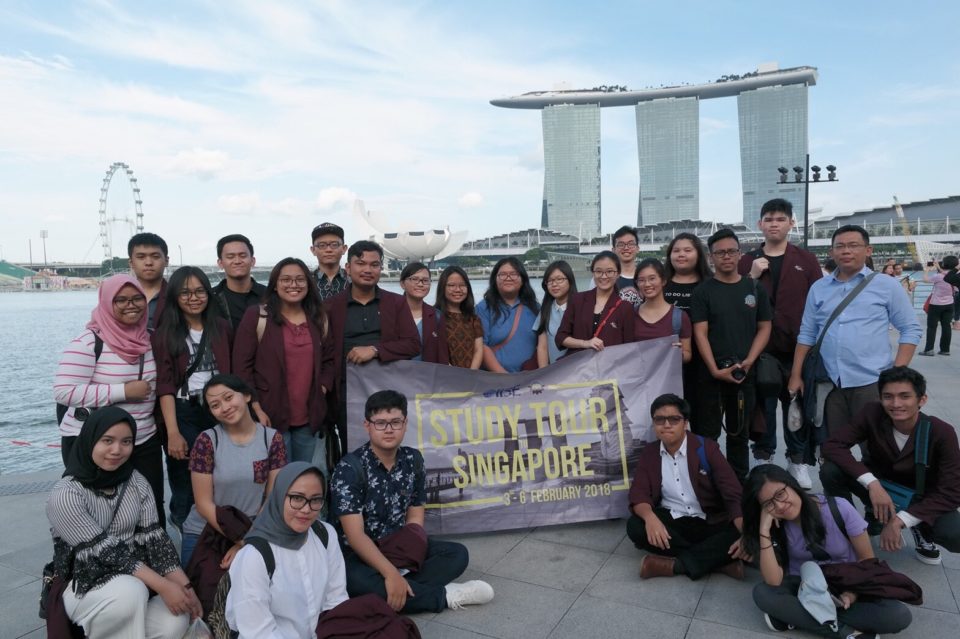 Marina Bay Sands, Singapore
IISE BINUS Student Chapter #716 organised a study tour to Singapore on 3rd – 6th February 2018. This study tour was participated by 25 students and one lecturer. It was intended to consolidate friendship within BINUS Industrial Engineering students, especially IISE members, to visit several companies and tourist attractions, and to gain experience and knowledge about Industrial Engineering in international level.
With the help of Peponi Tour and Travel agent, we managed to visit the NeWater Visitor Centre, Yakult Factory, The Logistic Institute – Asia Pacific National University of Singapore (TLI-AP, NUS), Universal Studio Singapore, Gardens by The Bay, Art Science Museum, and Merlion Park.
On our first day, we went to NeWater Visitor Centre and Gardens by The Bay. In NeWater, we were told about Singapore's shortage of water and their source of clean water. It has four sources of water which are sea water, reservoir, recycled water from deep tunnel sewerage system, and imported water from Malaysia. We also learned the process of water retreatment that purifies wastewater to potable water. There are three steps to purify water; filtration, reverse osmosis, and UV disinfection as a safety back up. Through this visit, we also knew that all the processes are being done by machines and evaluated by humans. Furthermore, as mentioned earlier, we also visited Gardens by The Bay. It consists of two domes with different atmospheres with various types of magnificent plants. It is really fascinating and it has many gorgeous photo spots. However, most of us were only able to enjoy and explore one of the domes as our time was limited.
Meanwhile, on the second day, we spent the whole day riding thrilling and scary rides and watching various interesting shows in Universal Studio Singapore. Some of us were brave enough to ride all the rides. On the other hand, there was a few of us who took a lot of photos inside this amusement park as it has many beautiful spots. We had an unforgettable moment in Universal Studio Singapore and would like to visit it again in the future.
We visited TLI-AP in National University of Singapore (NUS), Yakult Factory, and Merlion Park on the third day. Professor Tan Kook Choon, the faculty director of TLI-AP NUS, shared some information about TLI-AP such as their tuition fees, study and scholarship programs and also Singapore's logistics situations. Compared to our university, NUS is a lot bigger in both its area and number of students. We were amused by its environment and fully equipped facilities. Then, in the Yakult Factory, we listened to a presentation about Yakult Factory history and the making process of Yakult. We were also told that Yakult Singapore is special as it is the only Yakult factory that produces variant flavours of Yakult as well as bigger Yakult bottles than the normal ones. We also observed the process of making Yakult from the fresh milk, bottle production to packaging. After we finished, we went to Merlion Park. However, the Merlion was under renovation. We were so disappointed as we could not take a photo in front of the most famous icon of Singapore. Instead, we decided to go to Marina Bay Sands and took a photo in front of it, which is also one of the famous buildings in Singapore.
On our last day, we went to Art Science Museum and shopping at Orchard Road before going to the airport. Art Science Museum was breathtaking because of its exhibitions that involved both technology and art to create many sophisticated art pieces. We, again, did not want to miss the opportunity to take photos of those pieces. Meanwhile, Orchard Road was very crowded, there are a lot of malls and the surroundings were clean and comfortable. Then, unfortunately, we waited for more than six hours at Changi Airport as there was an accident which caused our flight to be delayed.
Through many difficulties, exhaustion and great excitement that we had experienced in this study tour, we had become closer to one another. There was a stronger bond in each of us. Even though this study tour might have a lot of shortcomings, we really enjoyed it and it was a successful and memorable one.