Social Projects
LET'S GO GREEN: Planting Trees for Life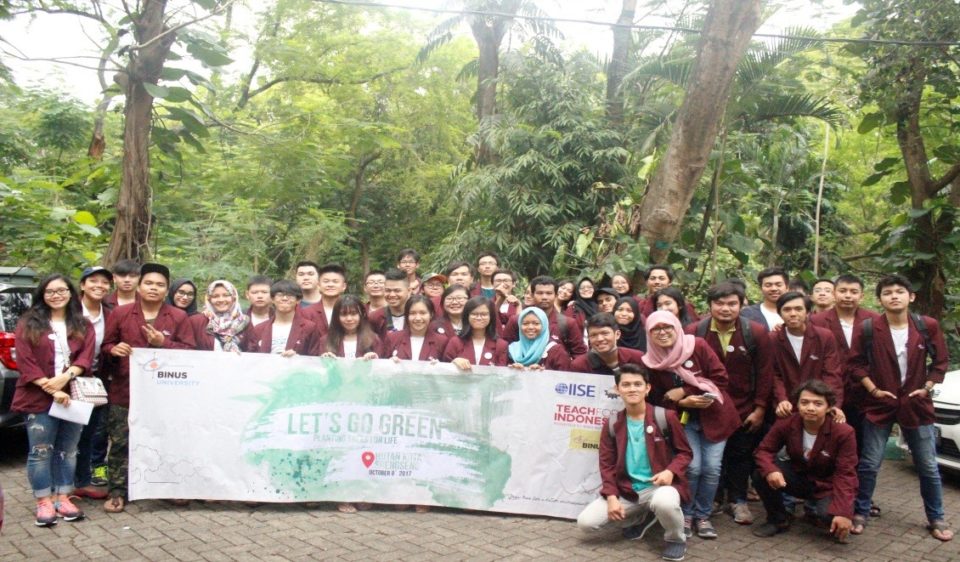 Planting Trees For Life is an activity organized by the Institute of Industrial and Systems Engineers BINUS Student Chapter #716 (IISE BINUS SC #716) where students can participate in tree-planting activities to help reduce the impact of global warming, a problem highly relevant but widely ignored in Indonesia. Various kinds of seedlings planted in this event were seeds of Cendana, Matoa and Meranti which are very beneficial to the environment. The planting process started with burying the seedlings, giving them a good amount of fertilizer. The trees will later be regularly maintained by the local rangers. By planting trees in a great number, we hope to reduce the effects of heavy rain such as flooding and provide cleaner air in a heavily polluted city.
Social Event: World's AIDS Day

IISE BINUS Student Chapter #716 organised social events on December 1st, 2018 and December, 9th 2018. These event were intended to show the awareness for social care and to consolidate our bond, for not just between students, but also for those around us. The first social event was held at Kasih Anugerah Orphanage on December 1st, 2018. Kasih Anugerah Orphanage is located in Kalideres, West Jakarta City. The aim of this orphanage is to facilitate the orphans and waifs in terms of searching, choosing, and determining their way of life and their dreams. The second part of our social event is held on December 9th, 2018. We collaborated with Yayasan AIDS Indonesia to conducted a soft campaign in Car Free Day Area. There were some activities that we've conducted, which are:
Counseling of the AIDS World and its informations.
Informations on offering counseling in schools or companies or your neighborhood about AIDS Informations.
A social experiment which consist of 4 BINUS Students whilst hanging up a sign on their neck that said, "I'm HIV Positive. Would you hug me?"
Open recruitment for Yayasan AIDS Indonesia volunteers.
Social Event: Paper Recycling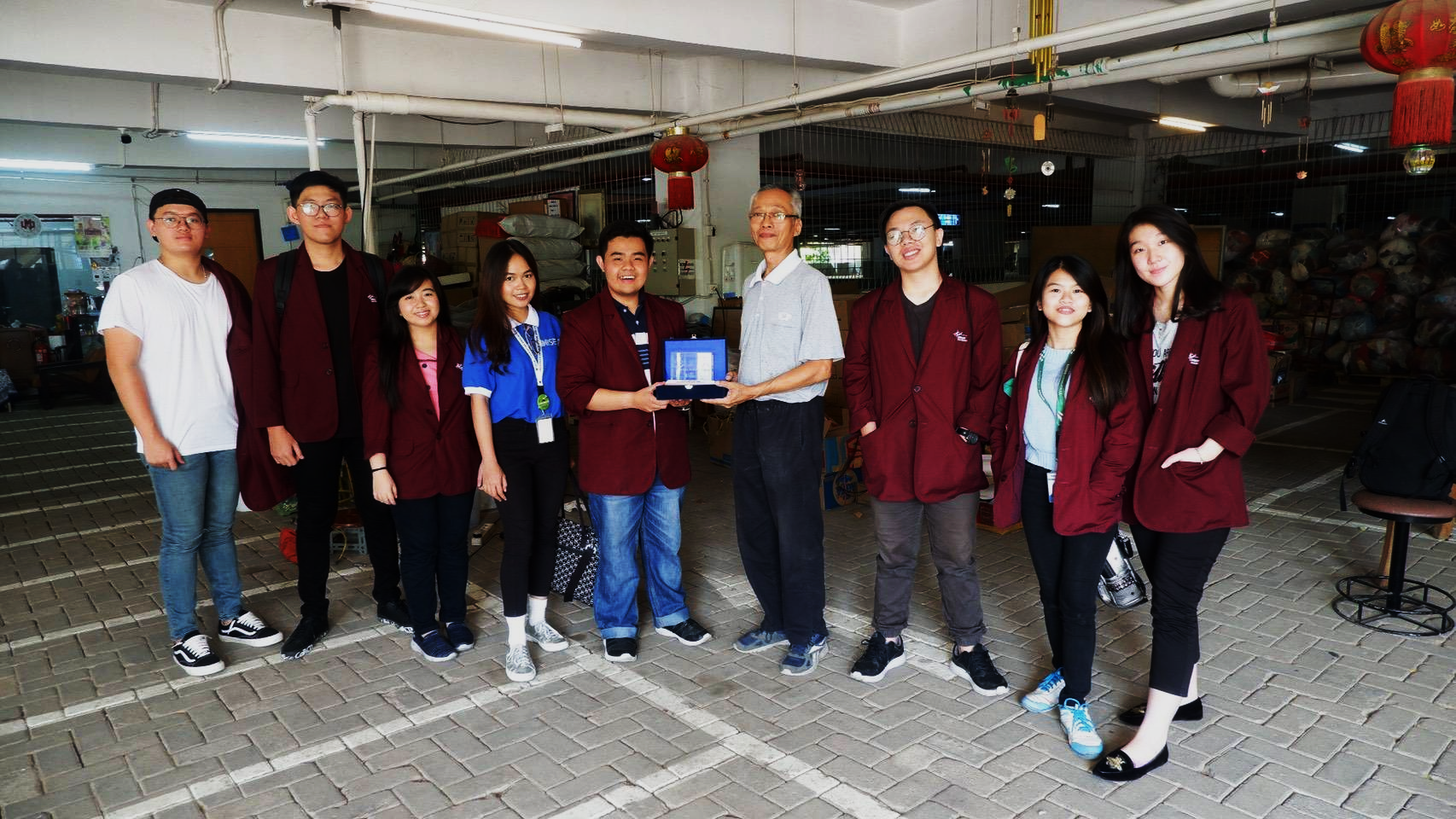 July 3rd, 2019
We visited Tzu Chi Foundation, Pantai Indah Kapuk, North Jakarta to donate papers. This social event was participated by 8 persons. The goals we wanted to achieve at this event is to realize the concern of increasing of amount papers – which is very significant in every year and to observe the importance of paper recycling. We gave the papers to the Warehouse of Environmental Education and Preservation and we were welcomed by Mr. Aan, the head of Warehouse of Environmental Education and Preservation.
He explained how we could classify the papers, like the blank one, colored, filled papers on one or both side, books, magazine, etc. While classifying the papers, we talked with Mr. Aan, asking whether these papers would be processed by Tzu Chi Foundation or not. They would sell these papers and use the money for charity. Books and magazines will be donated to orphanages or other foundations.
After classifying the papers, we looked around to see several parts of the warehouse. It turned out that they do not only accept papers, but also cardboard, luggage bags, dolls, electronic items, or anything that are either unused or broken. Mr. Aan said, they could repair the broken electronic items because there were technicians.
The closing of this event was when Arya, the project manager, handed over the plaque to Tzu Chi Foundation, which was represented by Mr. Aan.
Charity Event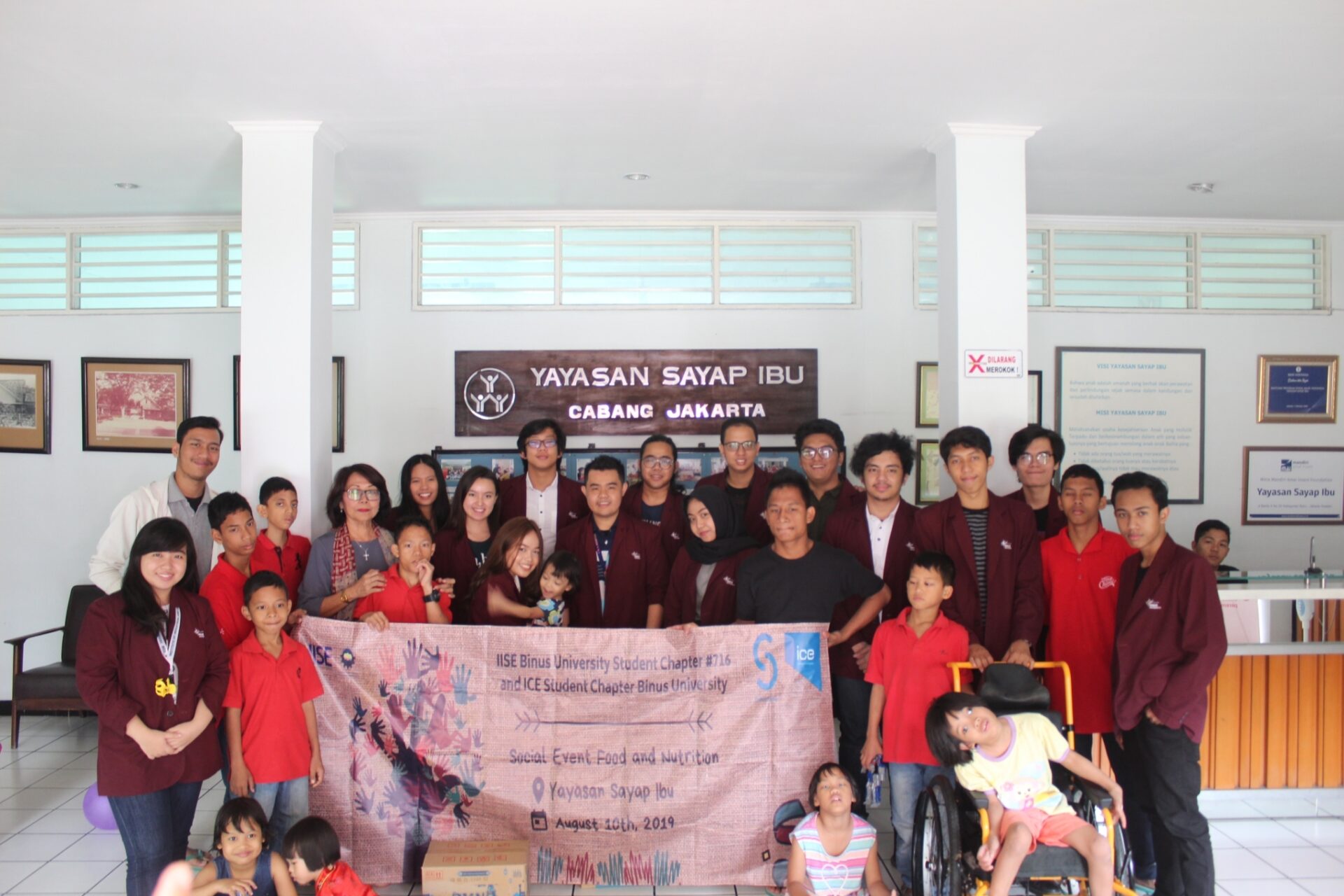 On August 10th, 2019, IISE BINUS University Student Chapter #716 and ICE BINUS University Student Chapter visited Yayasan Sayap Ibu, South Jakarta. This event was participated by 11 committees, President of IISE BINUS University Student Chapter #716, Vice President of IISE BINUS University Student Chapter #716, and President of ICE BINUS University Student Chapter. The objectives of this event are building the spirit of solidarity, implementing social responsibility, and also sharing knowledge about the importance of eating regularly and healthy food.
The event was opened by the greeting and speech from Ms. Caroline E. Doods, as a Chairman of Child Service Sector. She presented the profile of Yayasan Sayap Ibu in brief and showed gratitude for our visit to Yayasan Sayap Ibu. Afterward, we jumped into the main activity, which is socialization about food and nutrition. The children were listening to the socialization enthusiastically. The socialization ended by giving some questions to the children. Every child who could answer the question given correctly was rewarded by prize and these moments were captured by several photos taken. Furthermore, the committees continued the event by inviting children to play "post box" and also "dragon snake". After playing the games excitedly, the committees distributed lunch for children. At the end of the event, the committees donated stationery packages for the children and groceries for Yayasan Sayap Ibu. The event was closed by taking a group photo.
Ecolution Festival
IISE Social Event: Ecolution Festival was held by IISE BINUS Student Chapter #716. The event was consisted of four programs: social campaign, webinars, workshop and TikTok competition. The purpose of the event was to spread awareness about the sustainability and commemorate The National Waste Day on the 22nd of February. Waste has become a national problem. Waste matter is closely related to population, growth, economic growth, and changes in people's consumption patterns. The Ministry of Environment and Forestry (KLHK) announces that around 72% of Indonesian are not concerned with the waste problem. The conclusion that drawn from those statements is Indonesian has little sense of concern for environmental sustainability and its impact.
The social campaign program was conducted from January 17th to February 10th, invited over 46 BINUSIANs to upload campaign photos/videos about their daily activities that showing environmentally friendly behaviour. There were 25 challenges given and ran for 25 days. The 25 campaign topics were made in the form of photos or short videos to be uploaded on Instagram story. There were 2 webinar program that provide insights on topics related to the main theme. The first webinar was delivered by Nitya Ade Santi on February 13th. She is an awardee Erasmus Keyaction exchange student in Gottingen University, German. She delivered "Act of Youth" webinar, carried out to spread awareness and encourage young people to start action in managing and reducing waste, meanwhile the second webinar, "dari Sampah Menjadi Jutawan" was delivered by Wilda Yanti on February 20th.
Wilda Yanti is a social entrepreneur. The second webinar was about how to monetize or take advantage from waste. Mrs. Wilda Yanti told participants about how to exchange trash to money in waste bank. Both webinars accumulated 250 audience attendees from BINUSIANs and the public. TikTok competition was held on January 25th to February 15th. The TikTok competition invited Jennifer Wuliani as the judge. Thirty two participants competed to win a total prize of IDR 700.000,00 for three winners. TikTok competition was held to encourage people to start green lifestyle habit through short video to build interest in the public. Participant's video must contain the implementation of zero waste activities or message to spread awareness about the environment
Workshop was held on February 27th. The workshop was delivered by Mrs Rama Herawati and Mrs. Dewi Indriyani. Mrs Rama Herawati is a chairman of UNSYIAH waste bank and Mrs. Dewi Indriyani is a community engagement team Zero Waste Indonesia. The workshop was consisted of two sessions. The first session was delivered by Mrs. Rama Herawati, the topic was about how to implement reduce, reuse, and recycle.  The second session was delivered by Mrs. Dewi Indriyani. The speaker showed to the participants how to make eco enzyme and talked about the advantage from eco enzyme. There are 31 audiences that attended to the workshop from BINUSIANs and the public. Participants certificates and prizes had been handed out and each social campaign program participants were awarded 5 community service hours. Increasing awareness and insights on how to implement reduce, reuse, and recycle was achieved.