Sharing Session
Webinar "How to Prepare Your Future Career"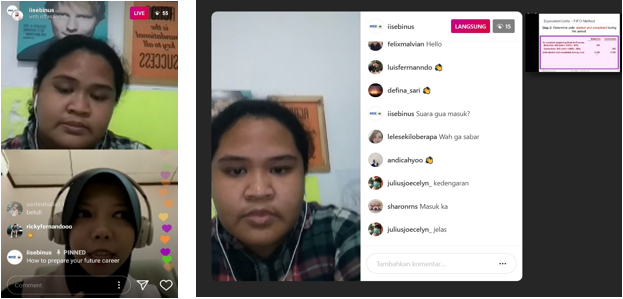 The 'How to Prepare Your Future Career' webinar was the first webinar held by the Institute of Industrial and Systems Engineers (IISE) BINUS University Student Chapter #716 during the COVID-19 pandemic which was done online based. Work from home tends to reduce productivity and prevent an organization from carrying out events. All activities outside the house are prohibited. This policy was adopted because of morality to protect everyone from the dangers of infectious viruses.
IISE BINUS University Student Chapter #716 is highly motivated to stabilize its organizational productivity even while facing a pandemic. Instagram was a medium that was considered by IISE BINUS University Student Chapter #716 to run the event. The medium was chosen based on the level of popularity of the application. Almost all smartphone users have an Instagram account. The feature used was the Live feature on Instagram. The event was held on May 13th, 2020, at 16:00 WIB via Live Instagram with an Instagram account named IISEBINUS. This webinar was participated by 139 persons.
The project manager of this event was Namira Edwina, a staff from Program Division and the speakers invited to cooperate are high-qualified speakers, Riffa Sancati, CEO of The Lens Story, Former GOPAY Group Head of Finance, and author of 'The Little Handbook for Big Career'. The webinar was held for one hour. The event began by collecting questions from the IISEBINUS Instagram account comments column a week before the event. The questions given were related to first graduates and their targeted careers, also related to the question, 'how to prepare themselves for future careers?'. The webinar provided information on fresh graduate salaries, online courses, whether a master degree is needed, and related sciences that need to be prepared to organize a career. This webinar was free and did not require income or money from the participants because the speaker was willing to share her knowledge with no fee required since she was one of BINUS University alumni. The webinar included a Q&A session so viewers were able to their question and the speaker answered their question.
Miss Riffa has selected 10 questions that were provided previously. She picked and collected the questions from the Instagram comment session. The questions were about salary, cv screening, professional life, interview tips, GPA, skills and many more. Miss Riffa also gave more perspective about career based on her experiences. The problem that happened during the webinar was Instagram Live can only last for one hour so that the next hour, the live feature will be closed automatically. The Instagram live then resumed a few minutes after the first live was automatically turned off. It confused the participants about what was happening in the webinar. The host restarted the webinar to continue the topic of discussion and overall, the event was run successfully. Speaker and participants were both actively contributing to the event. Miss Riffa's personal story was slipped between the discussion and the illustration provided were able to illustrate the implementation of career preparation, practically. She opened up the opportunity to answer the last question during live Instagram. The webinar provided a brief conclusion at the end of the event and Miss Riffa concluded the event by giving a message regarding career preparation.
IISE Podcast "Supply Chain Management and Career Tips"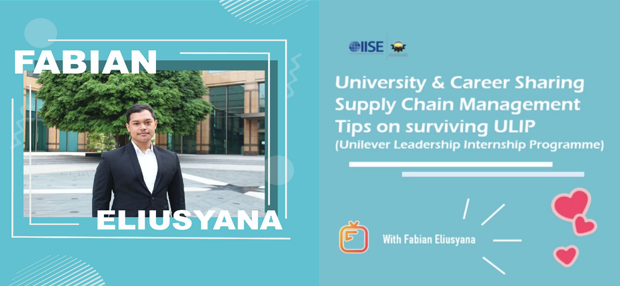 Supply Chain Management and Career Tips podcast was held by IISE BINUS Student Chapter #716 which was posted on IISE's official Instagram, @iisebinus, on 26th May 2020. The speaker of this podcast was Fabian Eliusyana, who is an intern in Unilever Indonesia as Supply Chain Procurement and previously worked as Quality Logistic intern in Danone Indonesia. He was willing to share his xperiences and journey free of charge. This podcast was posted on Instagram as an IGTV so it will be easier for students to listen.
The objectives to be achieved from making this podcast were providing knowledge and overview of working in a company, especially industrial related business, to students who especially were majoring in Industrial Engineering. The podcast was made to educate and expand students' knowledge as part of preparing their future and career, includes the culture, work ethic, and tips about building a career, especially in Danone and Unilever as for Fabian.
There were 3 topics discussed by Fabian, which were University and Career Sharing, Supply Chain Management, and Tips on Surviving ULIP (Unilever Leadership Internship Programme). These topics were raised due to the consideration of the large number of students who have no idea about the life after university. Supply Chain Management was chosen as the topic as it is one of the most popular stream in Industrial Engineering major.
Webinar Service System Engineering and Leadership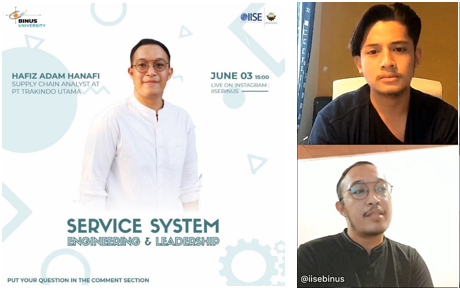 IISE BINUS University Student Chapter #716 organized a webinar about "Service System Engineering and Leadership" topic on 3rd June 2020. IISE Binus University invited an expert for this topic. The speaker of this webinar was Hafiz Adam Hanafi, a Supply Chain Analyst at PT Trakindo Utama. During COVID-19 pandemic, webinar method is more effective to be used as a medium to share knowledge related to industrial engineering stream. The webinar did not charge any fees to participants.
The event included five sessions. The first session was introduction, included the discussion about the job description of being a supply chain analyst at PT. Trakindo Utama. The topic discussed about the role of a supply chain analyst at PT. Trakindo Utama. The required skill by the analyst included mitigation and project improvement system,  included production and operation analysis, forecasting, scheduling, and optimization. Hafiz was a service system graduate and the speaker's project refered to a module from POA (Production and Operation Analysis).
The speaker of this webinar was Hafiz Adam Hanafi, a supply chain analyst at PT. Trakindo Utama. He took the service system stream during college, yet he managed to work as a supply chain analyst. The speaker was case-hardened in organizational experiences, especially about people development. The webinar was expected to motivate the students to become better and developed. Hafiz prefered micromanaging for his leadership style, interacted with his colleagues, problem solving, to be a good listener, and developing and managing other people in a better way.
Hafiz chose service system engineering due to his consideration of its orientation which was human improvement system. Service system creates customer-oriented mindset that has a big value in workplace in purpose to build customer attention. Human Interaction service system taught us about how to conduct customer satisfaction and customer expectation.
Podcast "Strategy Management During Quarantine"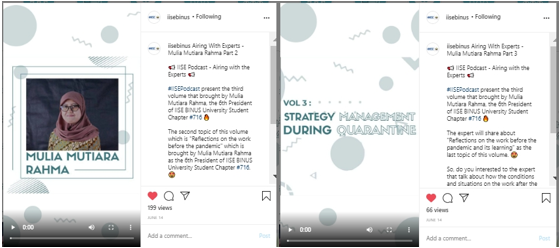 The 'Strategy Management During Quarantine' podcast was an online podcast held by the Institute of Industrial Systems Engineers (IISE) BINUS University Student Chapter #716 for IISE IGTV viewers to fill their free time during COVID-19 quarantine. Adaptation is needed in these new normal era due to COVID-19 which effected all people including college students and workers. There are a lot of difficulties adapting to new normal policy in college life and career life with online-based working method. This podcast aims to motivate and provides some tips for efficient college and career life management. Ms. Mulia Mutia, Alumni of BINUS University Engineering and the 6th IISE BINUS President was the speaker of this podcast.
The 'Strategy Management During Quarantine' podcast provided insights for people, especially college students, to help them manage their college and career life with strategic mindset by the right management. The podcast contained the information about how to do self management in college and career life efficiently based on the speaker's references. The speaker invited was BINUS Industrial Engineering and IISE alumni which has agreed to share her experiences with educational purposes that was suitable for the podcast theme which was "Strategy Management During Quarantine".
The podcast had been posted in IISE's IGTV on June 14, 2020. The duration of the podcast was 30 minutes-long, divided into 3 parts, and ended with conclusions. Targeting college students as audiences gave a result such as the podcast successfully reached 200 viewers on IISE Instagram TV. Hopefully, it could help fresh graduates or college students prepare their working or learning activities by implementing strategic mindset during quarantine.
Podcast "Business Analytics"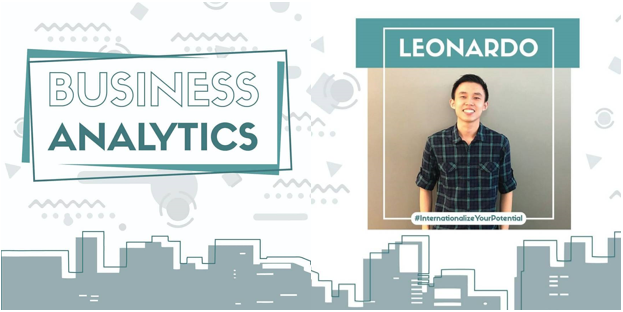 Business Analytics podcast was held by IISE BINUS Student Chapter #716, which was posted on IISE's official Instagram, @iisebinus, on July 28, 2020. The speaker of this podcast is Leonardo, who was a business analyst intern at Procter & Gamble (P&G). He was willing to share his knowledge, experience, and insight about business analytics, free of charge. This podcast was posted on Instagram as an IGTV, so it would be easier for students and the public to listen.
The objectives of this podcast were to inform people about the importance of analytics skills for their business, to explain the process of business analytics, and to describe the relation between industrial engineering major and business analytics skills. The podcast aimed to bring advantages for the listeners, especially youths and entrepreneurs, to gain more profits and avoid bad decision-making.
There were 7 sub-topics discussed by Leonardo. They were the definition of business analytics, tasks & responsibilities of a business analyst, data/information processing method, and many others. This topic was brought up due to low competitiveness of the local businesses against foreign businesses. Indonesian, especially the youth, have a good entrepreneurial spirit, but lack of business management skills. Business analytics was chosen as the topic as it is one of the best solutions to the problem. The podcast got 217 viewers on @iisebinus IGTV. We hope that all of those viewers got the insights we were trying to provide.
How TaniHub Thrived in New Normal?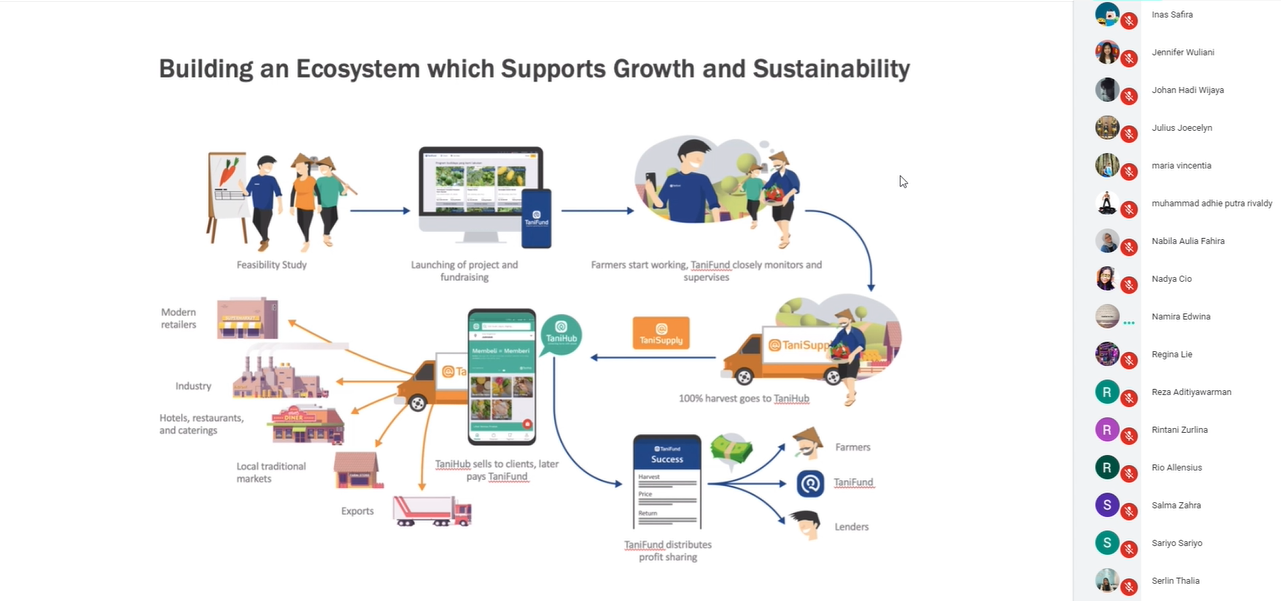 IISE BINUS University Student Chapter conducted a company sharing webinar with TaniHub Group Indonesia via Google Meet on 22nd August 2020. This event had 48 participants including our speaker Mr. Dhany Istanto, the VP of Operation Tanisupply Indonesia whom has 20 years of experience in supply chain management. Throughout this event, our goal was to understand how exactly COVID-19 affected the way companies do their business. In particular, the digital agriculture business of Tanihub group(parent-company of Tanisupply).
Mr. Istanto opened the webinar with his academic, and professional background. Then, he continued with the background of tanihub group. What is the idea behind TaniHub group? A lot of peasants relied on complicated crops distribution, which crops have to be transported multiple times which in turn can make the price skyrockets. To solve the problem, TaniHub group Indonesia created a digital market place as the solution.
Simplifying the distribution system helps, but it doesn't solve the whole problem. Farmers relied on wholesalers because they wanted to save the transportation cost, and to meet the market's demands. Therefore, TaniHub created two subsidiaries, i.e TaniFund which connects farmers and lenders, and TaniSupply which searches for commodities demands besides facilitating the distribution process.
COVID-19 had disrupted the supply chain flow worldwide, and also affected how companies do business including TaniHub group. In order to adapt, TaniHub group uses 3 main strategies as follows:
Anticipate the risks
Visualize the opportunities
Formulate the best initiatives
Back in March 2020, the Indonesian government issued all non-essential workers to work from home. There are several risks anticipated such as communication, distribution, law, and tech. Communication and distribution is affected directly due to restrictions in gatherings. Besides that, laws passed by the government also changes how the company operates. Lastly, tech has the most risks, because the company's activity is heavily depended on it.
Behind every problem there is an opportunity, including the ones affected by the pandemic. Surely distribution routes are disturbed spikes in demand creates profit. Also due to companies shifting into online initiatives, more time is spent to the networking sector rather than the usual times. Hence, there is a potential growth in business deals and exposure.
There are intiatives that TaniHub group did, onsite or offsite. The onsite initiatives are smaller worker groups with different shifts, obligation to wear a mask, and health check protocols like temperature check, and hand washing. On the offsite initiative, most non-field workers worked from home using group meeting platform to facilitate communication. The result is truly fenomenal, as shown in the pictures below, the company managed to increased its growth by 250% and gained 90,000 new users!
What It Takes to Become a Product Manager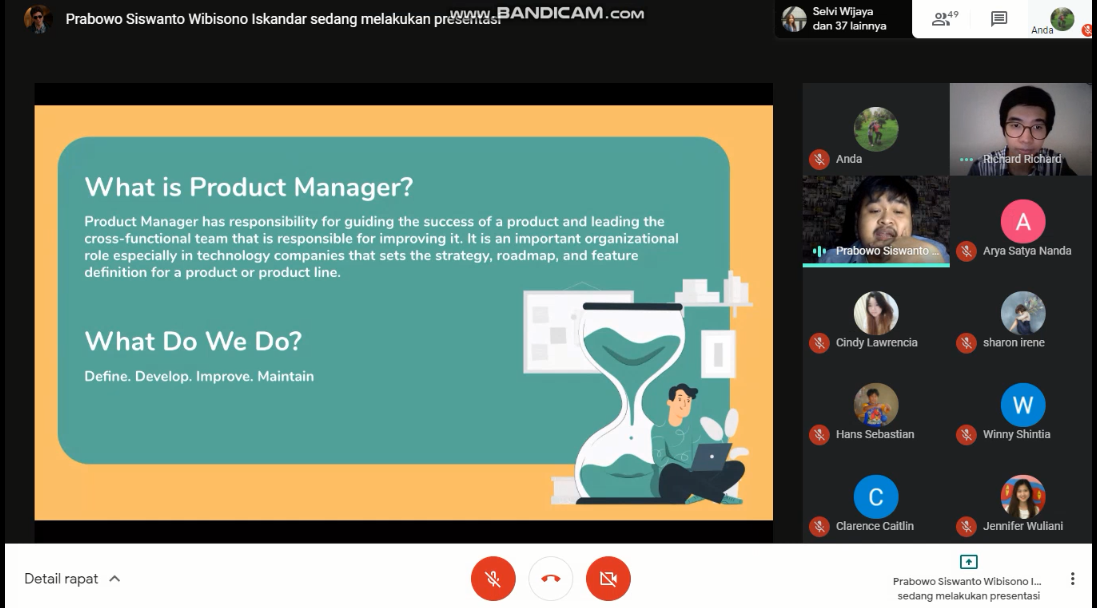 IISE BINUS University Student Chapter #716 had held a webinar on October 7th, 2020. The webinar discussed the topic of "What It Takes to Become a Product Manager" with the aim of providing insights, knowledge, and giving participants an overview about the correlation between the obtained knowledge in industrial engineering department and product management. Mr. Prabowo Wibisono, who currently works as an associate product manager at PT Global Urban Esensial, was the speaker of the webinar. His excellent, relevant past, and current employment qualified him to share some knowledge regarding the product management provision.
IISE BINUS University Student Chapter #716 is highly motivated to stabilize its organizational productivity even while facing a pandemic. Work from home tends to reduce productivity and prevent an organization from carrying out events. The webinar was held to make it possible for all students to take part in, without breaking the health regulations, and able to receive some knowledge about future profession. A product manager is one of some familiar ones. However, most people do not understand about product management. Program division invited a speaker to explain about a product manager's job description based on real-life experiences.
A product manager is the person who responsible for defining the why, when, and what of the product that the engineering team builds. Product manager leads cross-functional teams from a product's conception all the way through to its launch. Product manager provides the deep product expertise needed to lead the organization and make strategic product decisions. They often analyze market and competitive conditions, laying out a product vision that is differentiated and delivers unique value based on customer demands. The role spans many activities from strategic to tactical and provides important cross-functional leadership — most notably between engineering, marketing, sales, and support teams.
Using Google Meet as the platform, the webinar started with the introduction and was continued by carrying out the topic. The webinar was ended with a Q&A session and conclusion. There were 60 participants who joined the webinar.
How is Big Data Beneficial for Business?

IISE BINUS University Student Chapter #716 organized a webinar on 17th October, 2020 with the topic "How is Big Data Beneficial for Business". IISE Binus University invited Mr. Bagus Rully Muttaqien as a speaker. Mr. Bagus is an expert in big data with 12 years of experience, the head of corporate communications at Solusi247, and also the co-founder of IdBigData (the national community of big data). The webinar went well with 75 participants. The event discussed about the implementation of big data in engineering and its required skills.
Mr. Bagus shared about the infographics of worldwide data, the percentage of internet users in Indonesia, and how it has driven most companies' decisions. The speaker explained data as the new core capability of digital business. All three primary cores in business, people, process, and technology is already data-driven. The more data we collect, the more we increase the validity and accuracy to forecast a company's decisions.
Data is not all about visualization. A data journey consists of data collection, data preparation, data exploration, data formatting, and data presentation. Data is cultivated, so there is no duplication and has a correlation between other data. In data projects, data engineering has a role roundly 79% and the rest is data science. It is better to begin a career as a data engineer rather than instantly jump into the profession of a data scientist when the company already has a data engineering team that supports us in creating a project.
Most data scientists had at least three primary types of knowledge: computer science, mathematics, and business. Software development is mandatory, as a data engineer should master a concept of databases, data mining, data warehouse, and data analytics. Proficiency in mathematics/statistics are essentials in data science. The mastery of these two fundamentals could result in an output of an excellent data scientist.
As problem solving lies at the core of service providers and businesses, data science has the ability to analyze mass of data to resolve problems more quickly and efficiently than was previously possible with engineered solutions. Therefore, data science services are demanded in various field with market research, data visualizations, etc. The number of demand opens up a great deal of opportunities of success for any job seekers if they're willing to work hard and possess the skills required in this field.
The webinar went well. Participants were eager, listening to the presentation. It's unfortunate that the webinar's duration was not planned to be longer than 60 minutes, whereas the speaker had a lot of exciting materials to present. There were lots of inspiring information regarding how simple data could boost a business profit when being processed the right way.
Financial and Business Sharing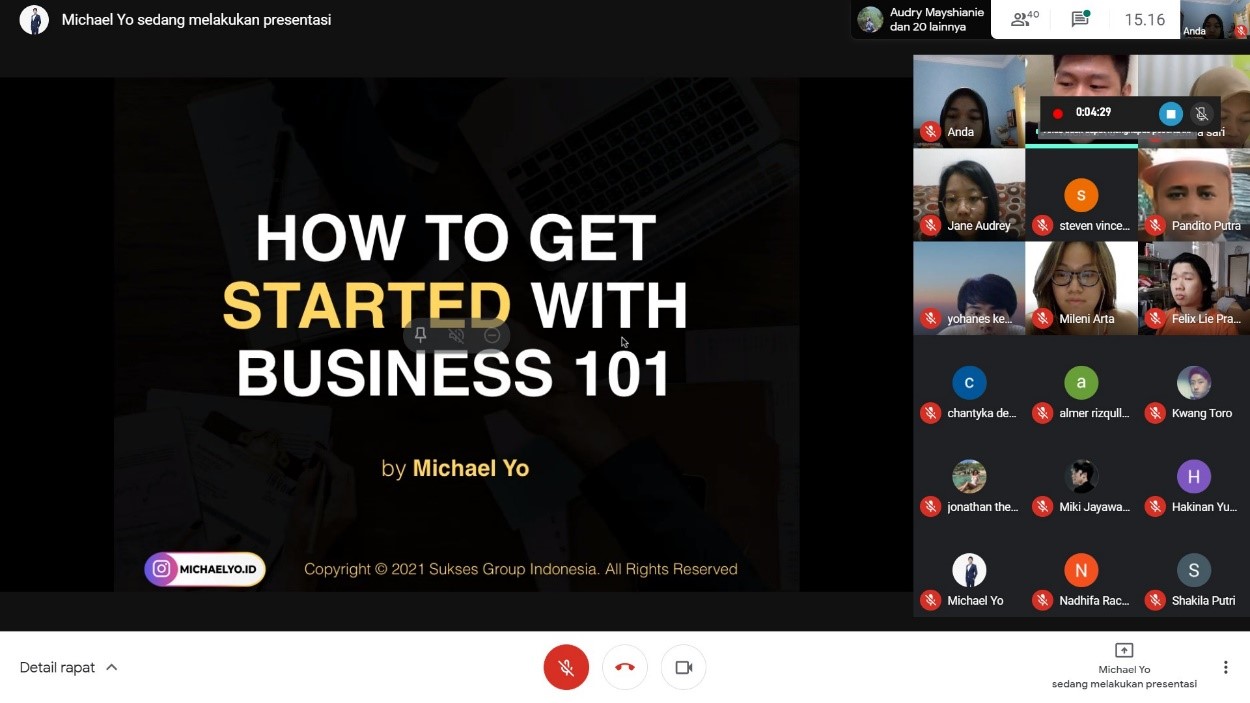 IISE BINUS University Student Chapter #716 as part of industrial engineering, BINUS University, aims to provide insight and further knowledge by conducting events, such as webinar. On this opportunity, Institute of Industrial and Systems Engineers (IISE) BINUS University Student Chapter #716 held a webinar called Financial and Business Sharing to educate the participants about the fundamentals of business and economy. Business is an economic activity, which is concerned in production, supply chain, and bartering with an objective of earning the profit. Having a good understanding of business will invest every industry to a good outcome. The understanding includes strategic management, basic accounting, operation management, marketing, etc. that can strengthen companies' project management, problem solving, and market analyzing capabilities. Michael Yo, the speaker of the webinar, is a successful educator and motivator since he was eighteen. As an entrepreneur and CEO of Success Group Indonesia, he has been through so many ups and downs in the business industry. The webinar was held on January 9th, 2021 via Google Meet with "How to Get Started with Business 101" as the chosen theme. The event was open for public and participated by 52 persons from various majors.
The moderator started the event by welcoming our speaker and participants, followed by introducing our speaker, Michael Yo and his achievement. After opening, the speaker started to share his experience and prepared materials. During the event, the speaker and participants were able to maintain the communication interactively. This event also provided a question-and-answer session to give the participants opportunity to deepen their understanding. The event was ended with a closing and documentation.
There were some technical difficulties that happened during the event due to bad Wi-Fi, but our committee had prepared internet quota as back up. The schedule was delayed for about 10 minutes to wait for the participants to join and managed to end our webinar on 04.35 PM. These mistakes will be evaluated to prevent repetitive mistakes and ensure all the technical is ready to use, including sending an e-mail reminder to each registrant to avoid miscommunication between the committee and the participants. Most of the feedback the event received was overwhelmingly positive and made the committee even more eager to continue to develop.