Workshop
Career Preparation: Build Your Future Career
The career preparation workshop was held on January 21st, 2015 at BINUS University's room 805 with Taufiq Hidayat as the Project Manager and Marsha A. Fianza, Maura Savira, Palupi Diah, Nabila Avertia and Rizky Fauzan as committee members. The event went good and perfect and the committees give their best service for the participants and also the speaker from BINUS career.
The career preparation workshop is being taught by Miss Ira Setyawati from BINUS career. Miss Ira Setyawati taught us all a lot of thing about how to make your own CV, how to be perfect on and facing an interview and the tips and trick of how to look good for an interview. After the events being held, all the participants will be given a certificate provided by BINUS career and all committees gather together to do an evaluation with the president of IIE and the Manager of Program division.
In summary, participants and the committees show much enthusiasm to participate in this event. All committee show a great deal of effort for this event so it could move smoothly and the committee did a great job in finishing this event.
Workshop: Preparation for Future Career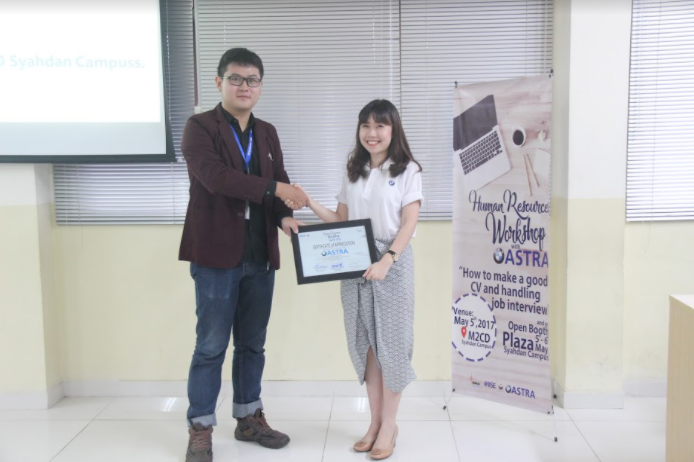 The preparation for future career workshop was held from May 4th, 2017 until May 6th, 2017 by IISE BINUS University Student Chapter.  As a university student, we must prepare ourselves for the future (career plan). A career plan helps us determine our skills and interests, what career best suits our talents, and what skills and training we need for our chosen career. And the next step we will need is, how to face interview and test session from the company. The career preparation workshop is being taught by Miss Bella from Astra International. In this workshop, Miss Bella taught us all a lot of things about tips and trick to make a good CV. She also taught us how to be perfect on handling an interview so that we can look good for an interview. We have also set up a booth that is used as a place where students could ask about the recruitment carried out by Astra International.
CV Workshop and Training 2019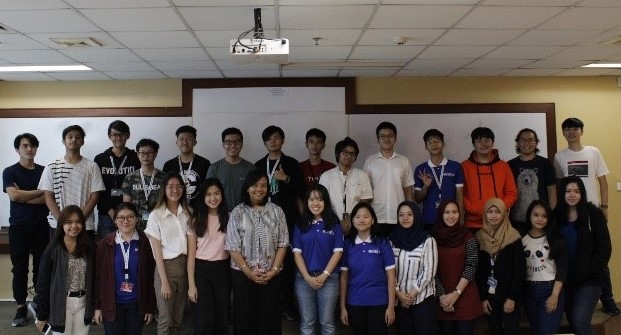 On the 22nd of November 2019, IISE BINUS withheld a workshop regarding how to make a proper CV (Curriculum Vitae) and handling job interviews. The workshop was run in room 301 in Anggrek Campus from 1 PM until 3 PM. 29 people and a public speaker attended this workshop intended to help provide education towards relatively new students, especially IISE members, to prepare for the 3+1 enrichment program in the final year of the curriculum.
For the workshop, we invited Miss Andriati Endang Pratiwi, a manager in the Human Resource Department as our public speaker. The workshop started slow as some of the participants came up late due to the rain. Starting the session, Miss Andriati explained how a CV should be simple yet attractive. Starting from your full name, address, mobile number, to your skill and experience. In the middle of the session, Miss Andriati showed an example of a well-structured CV, and the participant had a little session to construct their CV following the sample shown. Lastly, Miss Andriati described what kind of mindset and behavior that you need to possess to successfully sell yourself to hiring companies.
The final session was a Q&A session where Miss Andriati can elaborate more deeply on what concept the participants couldn't grasp clearly. Many of the participants asked great questions from their curiosity, showing that the workshop was indeed helpful in supplying people with worthwhile information. Even though faced with many difficulties in the preparation for the workshop, it resolved with a group photo and ended well. A lot can be learned by both the participants and the committees, and we hope the knowledge shared that day to be beneficial to every participant.
Workshop: Basic of Copywriting
Copywriting is a form of sales and marketing technique that uses writing as the intermediary. It is essential for online success in today's digital age and is needed globally as it plays an important role in content marketing. Copywriting skills are necessary for company growth as they can benefit from writing to convince customers of the product's need. Institute of Industrial and Systems Engineers (IISE) BINUS University Student Chapter # 716, as part of Industrial Engineering, conducted a copywriting workshop to provide participants a basic copywriting concept overview and its relationship to business strategy and content marketing. The workshop which was held on the nineteenth of December 2020, requested the presence of Mahansa Sinulingga as a qualified speaker for the event. The speaker's expertise is already proven by his career history as a Copywriting Supervisor at PT. Kompas Media Nusantara.
The workshop was attended by 24 persons, started with an initial introduction about copywriting. Copywriting is a writing skill that leads someone to an activity, inviting them to buy a product or to take part in an event. The material included an explanation of the difference between content writing and copywriting. The differences between content writing and copywriting can be classified by its distinctive writing style to approach the customer. Content writing applies the Search Engine Optimization (SEO) approach by using colloquial language while in copywriting, a copywriter must have a strong copy by using a style that has an approach to call to action. Copywriters have to understand the customer segment to know what kind of copywriting style is the right one to be used to sell a particular product.
The speaker explained that there are 4 important components in writing copywriting that includes AIDA (Attention, Interest, Desire, and Action). These four essential components optimize the performance of copywriting to show customers the product brief information attractively. The speaker also provided various examples of interesting advertisements, such as XL Axiata advertisements. XL Axiata is able to create attractive advertisements by applying the copywriting skills to describe the product to reach the 'Desire' stage according to AIDA. The technique is often used in copywriting to make the advertisement more attractive and persuasive. This kind of writing style keeps copywriting from requiring a call to action type of writing.
The event provided a session where participants were able to do copywriting about  MaMiMuMeMo (Makan Minum Murah Menang Mobil) Gojek culinary party that is prepared by the speaker. The brainstorming and QnA session allowed the participants to raise questions regarding the topic. There was a participants' work performance assessment for participants' potential development that is done by the speaker to help the participant learns more about good copywriting.
The workshop was ended with a documentation session. The interaction between the speaker, moderator, and participants kept the workshop alive and interesting. The audience engagement was mastered well and the workshop ran smoothly until the end of the schedule.